What's new in DR4
New archives
APPLAUSE DR4 introduces two new archives: 1. Bamberg North (archive_id=208) 2. Vatican Double Astrograph (archive_id=501)
Additionally, scans of the Tautenburg Schmidt Telescope archive (archive_id=401) where processed for the first time. In DR3, we published only Tautenburg scans and preview images, but for DR4, we processed the 20505 scan files (stripes) of 4101 plates.
New processing of all scans
The processing pipeline was completely rewritten for DR4. The main differences with the previous data release:
astrometric solving of multiple-exposure plates;
astrometric and photometric calibration of extracted sources using Gaia EDR3 catalog;
classification of artifacts with machine-learning methods;
sky coverage of individual exposures.
Additional sky coverage
DR4 brings additional sky coverage compared to DR3, due to additional plates processed. The following plots show the sky coverage of the Bamberg North, Tautenburg and Vatican archives.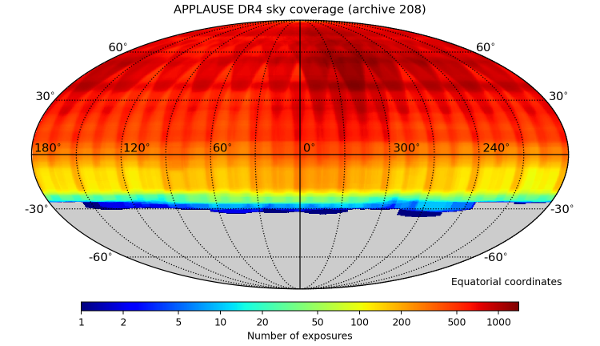 Sky coverage of archive 208, Bamberg North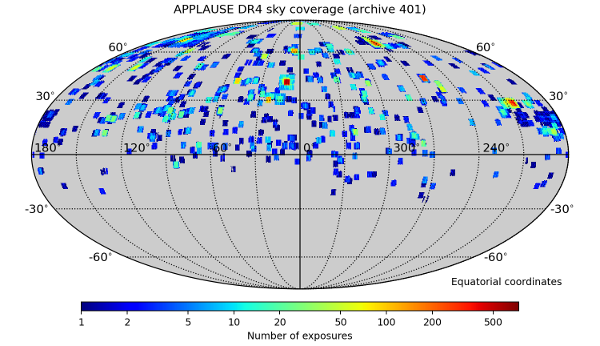 Sky coverage of archive 401, Tautenburg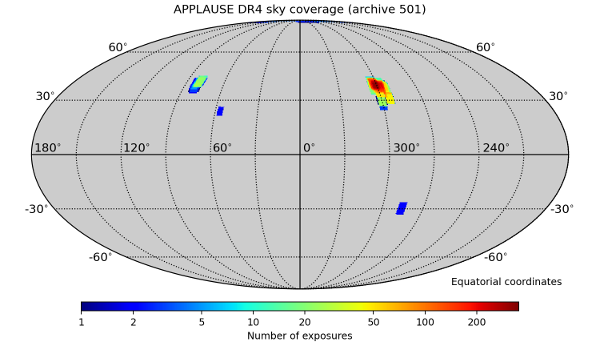 Sky coverage of archive 501, Vatican Observatory