Welcome to the APPLAUSE archives
German astronomical observatories own considerable collection of photographic plates. While these observations lead to significant discoveries in the past, they are also of interest for scientists today and in the future. In particular, for the study of long-term variability of many types of stars, these measurements are of immense scientific value.
There are about 85000 plates in the archives of Hamburger Sternwarte, Dr. Karl Remeis-Sternwarte Bamberg, and Leibniz-Institut für Astrophysik Potsdam (AIP). The plates are digitized with high-resolution flatbed scanners. In addition, the corresponding plate envelopes and observation logbooks are digitized, and further metadata are entered into the database. The work is carried out within the project "Digitalisierung astronomischer Fotoplatten und ihre Integration in das internationale Virtual Observatory", which is funded by the DFG.
On this site, you can get access to the plate data that are processed so far. Please use the registration form to get a user account. Then you can submit SQL queries or fill search forms using the query interface. Without signing in, the query interface can be used as a guest user.
Data Release 3 is available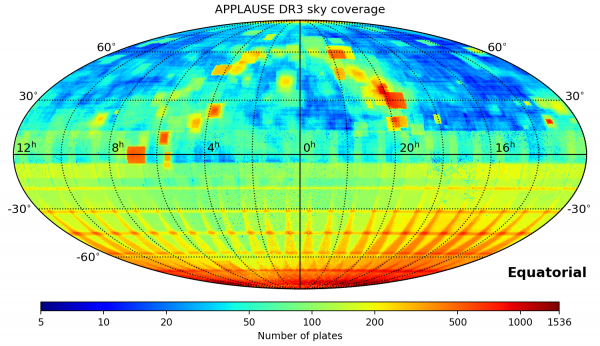 Attributions
If you make use of the APPLAUSE data please cite the appropriate acknowledgements for the various data releases: